ST ANNE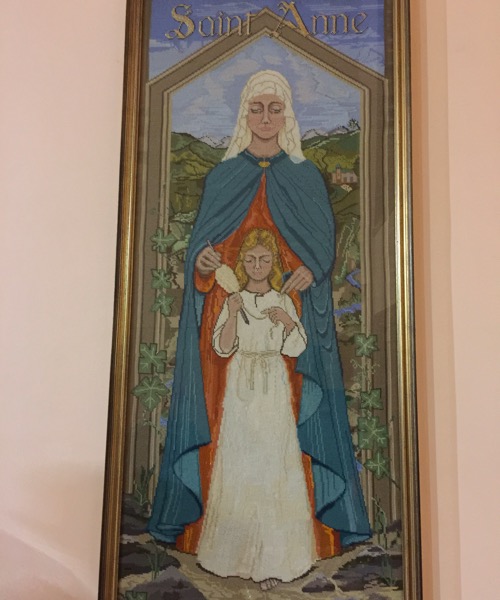 Mother of Our Lady. Grandmother of Jesus Christ. Wife of Saint Joachim. She is believed to have given Mary to the service of the Temple when the girl was three years old.St Anne was the wife of St Joachim and she was also the mother of the blessed Virgin Mary. Her feast is celebrated on July 26th.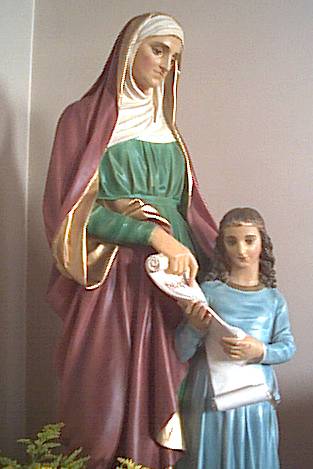 In the picture below, St Anne and the Child Mary's statue is found above the side entrance to the church and the one to the right is found to the left of the sanctuary.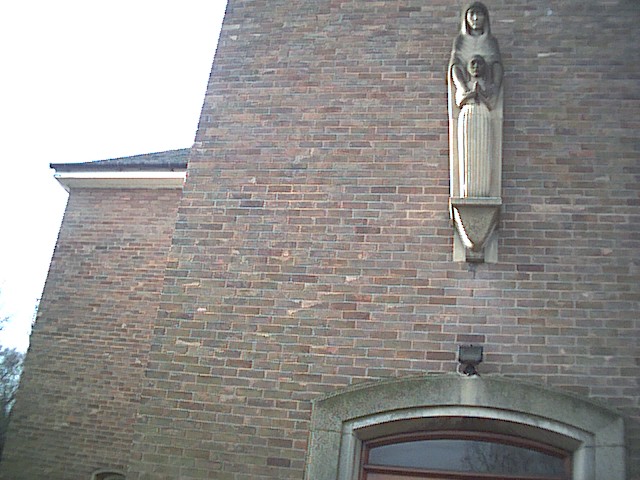 St Anne's name means gracious one; grace = Anne
Patronage against poverty, Brittany, broommakers, cabinetmakers, Canada, carpenters, childless people, equestrians, grandmothers, grandparents, homemakers, horse men, housewives, lace makers, lace workers, lost articles, miners, mothers, old-clothes dealers, poverty, pregnancy, pregnant women, Quebec, Santa Ana Indian Pueblo, riders, seamstresses, stablemen, sterility, Taos New Mexico, turners, women in labour.
Prayer to Saint Anne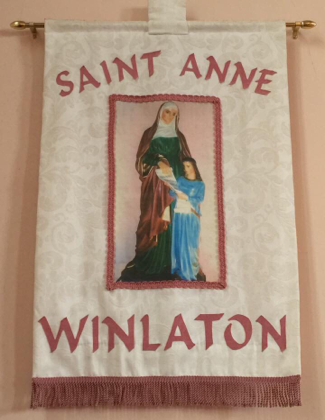 Good Saint Anne, you were especially favored by God to be the mother of the most holy Virgin Mary, the Mother of our Savior. By your power with your most pure daughter and with her divine Son, kindly obtain for us the grace and the favor we now seek. Please secure for us also forgiveness of our past sins, the strength to perform faithfully our daily duties and the help we need to persevere in the love of Jesus and Mary. Amen.
Click on the picture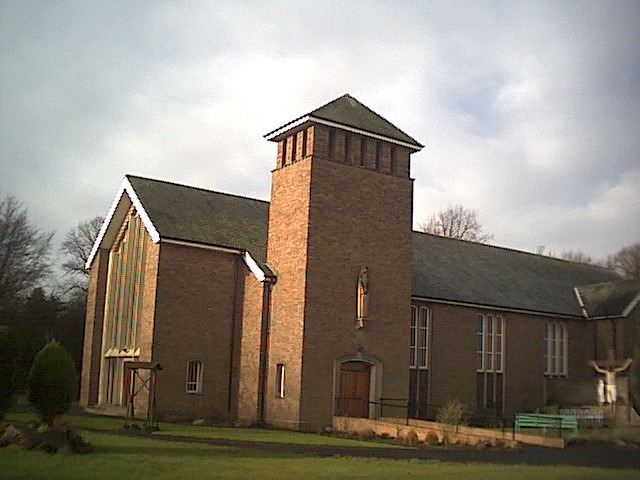 St Joachim, husband of the Blessed Virgin Mary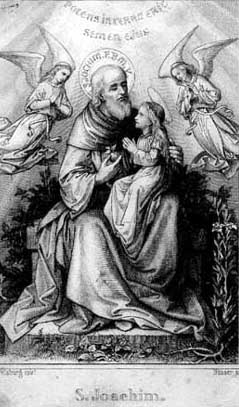 Husband of Saint Anne, elderly father of the Blessed Virgin Mary. Grandfather of Jesus Christ. Probably well off. Tradition says that while he was away from home, he and Anne each received a message from an angel that she was pregnant. Believed to have given Mary to the service of the Temple when the girl was three years old.
Saint Joachim is mentioned in neither historial or canonical writings. The information we have on Joachim derives mainly from the apocryphal.

Click on the picture.
St Anne has 2 famous shrines dedicated to her, one in eastern Canada at Ste. Anne de Beaupre in Quebec and the other is at Auray at southern Brittany, in France,